Our guests are welcome in our imposing, comfortable Zalakaros Apartment Houses!
In the photos below 3 of our BEAUTIFUL APARTMENT HOUSES, built in the heart of Zalakaros or in a green area are introduced, where the whole Family, guests looking for romance or groups of friends will find comfortable, guest friendly accommodation.
Zalakaros is a "thousand-experience" spa town full of flowers, parks, one of the largest wellness and spa centers in Europe, with 40 swimming pools, several slide parks and a modern sauna world. Families, friends can have a bath or relax in a 4-hectare park under huge shady trees, walk on the water promenade in the Eco Park, and enjoy the cozy restaurants and cafés. The NEW KAROS Promenade and Rendezvény (Event) square are the venues for festivals, cultural, musical and craft programs. Parking is free in Zalakaros all year round.
On our website (www.zalakarosiszallas.hu) you can see all the three of our modern apartment houses and from these pleasant accommodation, you can choose where you want to spend your holiday in Zalakaros, from where you can return to your home recharged, full of experiences.
Our guest houses built opposite the wellness bath can be reached in a pleasant walk, in 3 minutes and the other ones are located next to the Event square, in a leafy-forest area, 8-12 minutes from the bath. Guarded parking is provided.
In the lawny yard of the apartment houses we provide barbecue facilities, in our garden full of flowers you can relax, the birdsong and the play of squirrels make it unforgettable.
Each apartment has a bathroom and a separate toilet, a dining-terrace, an equipped kitchen, a dining room, a microwave oven and a large refrigerator for self-catering, but we also serve breakfast on request, and we organize meals for any family or friends' party.
Magdaléna, - Blanka - and Gyógyfürdő square Apartments are certified apartment houses with Wifi, and with air conditioning or a fan on request. A safe PLAY HUT has been built in the garden of the apartment houses where children can play safely on the playgrounds. The renovated appealing apartments with their outlook and interior architecture provide an unforgettable quiet holiday and relaxation for all our GUESTS.
Magdaléna Apartment
Accommodation for 10 + 2 people
8749 Zalakaros, Csermely street 34.
Click HERE for details!
Blanka Apartment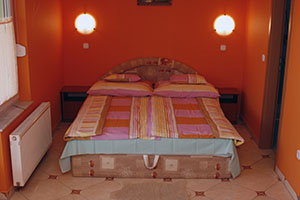 Accommodation for 8 + 4 people
8749 Zalakaros, Harkály street 12.
Click HERE for details!
Gyógyfürdő Square Apartment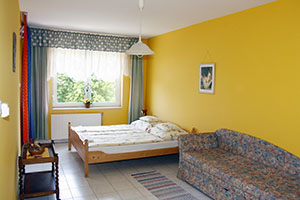 Accomodation for 5 people with 2 bedrooms
8749 Zalakaros, Gyógyfürdő Square 4.
Click HERE for details!