Detached house near a forest for 8 people in Zalakaros, for groups of friends, large families…
BLANKA Apartment House, Harkály str 12.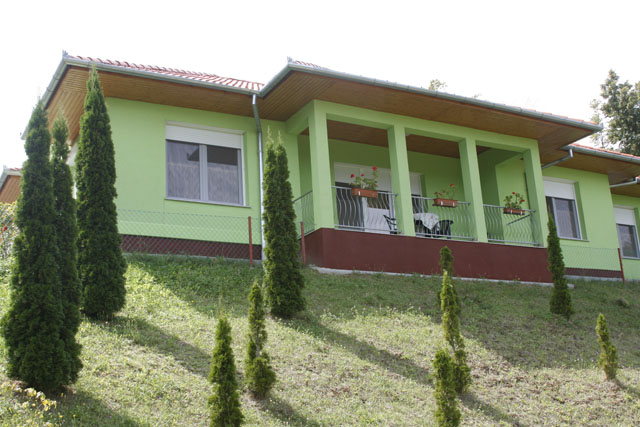 We offer Blanka - 3-star ground floor, GREEN HOUSE with a view to our guests, 200m away from the neighbours. We recommend the impeccable, high comfort apartments with a lawny barbecue garden, closed parking lots for 4X2 people, families and groups of friends, where the observation of squirrels and deers is a great experience for children.
**We are waiting for you in Blanka Apartment House, 4 1-bedroom (extra bed available) apartments with Tv and Wifi, on the ground floor with separate entrance. The bathroom has a shower with disinfectant liquid, the very well-equipped dining kitchen has a refrigerator, household appliances, cooking and serving utensils, kitchen linen and towels.
Each apartment has a covered terrace, which is suitable for common meals and parties. 4 parking spaces and a landscaped garden in the yard make the days spent here more cozy, where it is possible to do grilling, on our neighboring plot you can have a barbecue and do sports.
The apartment offers a beautiful view of the city, the little-Balaton. All attractions are within a 15-minute walk: the Event square, the Family Spa and Adventure Bath, restaurants, cafés, shops, a sports and cycling center. Parking is free, even next to the spa.
You can get to know the tourist attractions of the flowery city in 1 hour by the small city train or a horse-drawn carriage, and in 15-20 minutes by car you can visit the Water Buffalo Reserve, Little-Balaton, Adventure Island or a small-animal petting zoo.
Opening hours: May 1 - October 15.
Booking: minimum 3 nights
Accomodation costs:
8 people/night: 64.000 HUF/night
10 people/night: 75.000 HUF/night
Email: magdalena2@freemail.hu Phone: +36 (30) 7550-358